Page 45 - EQUIPTO 2019 Catalog
P. 45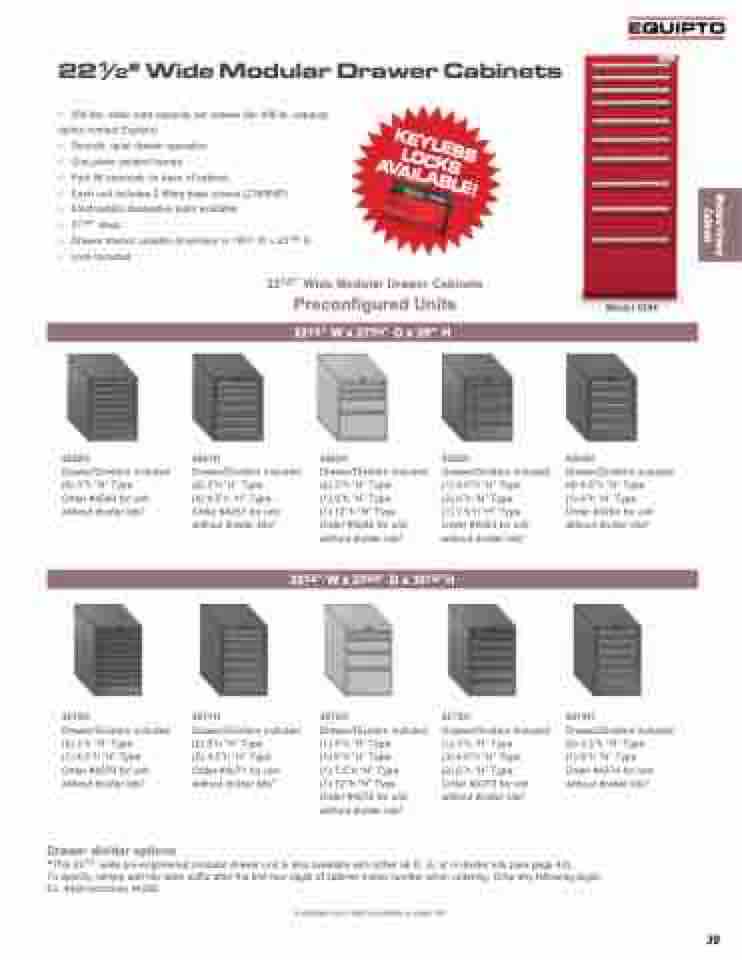 Modular Drawer Cabinets
Organize everything from the smallest hardware and jewelry to large motors and sporting equipment. Every heavy-duty Equipto Modular Drawer Cabinet is engineered and manufactured with exacting precision for years of rugged use. The optional lock keeps your items secure. Utilize "more than one drawer accessibility"
Industrial, Military, Educational, Institutional, Automotive; no matter what your application, Equipto modular drawer cabinets save space, time and money!
  22'' to 60" wide cabinets
• Organized
• Fast retrieval
• Save time
• High density
• Rugged 12 gauge steel frames
• 200and400lb.drawercapacityoptions
• Protect valuable tools
• Centralized control of equipment
• No assembly
• Custom units
NEW!
• All cabinets include a lock
Dividers and Partitions
Each drawer is ribbed and slotted (3/4" centers) over the length and width of the drawer. Convenient numbered spacings simplify installation of partitions, and label holders permit quick identification of drawer contents. When fully extended, 100% of the drawer clears frame to allow unobstructed viewing of entire drawer contents. The interchangeability of drawer partitions and dividers permits changing drawer interiors easily - as you need to,
and in unlimited patterns.
       An integral fork lift base consisting of two 13/4" x 6" lifting channels arc-welded to the frame itself, permits inserting truck forks into wide channels for safe, easy transport of locked cabinets - even when fully loaded!
Anchor bolt
These bolting options allow you to anchor a modular drawer cabinet to either concrete or wood floors.
  Part No.
MDC-CFAK MDC-WFAK
Description
concrete anchor bolts wood anchor bolts
mDc-cfAk
mDc-WfAk
 Note: Newly designed 367/8" drawers with enhanced 200-lb. and 400-lb. drawer slides no longer include carriages.
41
Modular Drawer Cabinets
200 & 400 LB. CAPACITY OPTIONS!