Page 28 - EQUIPTO 2019 Catalog
P. 28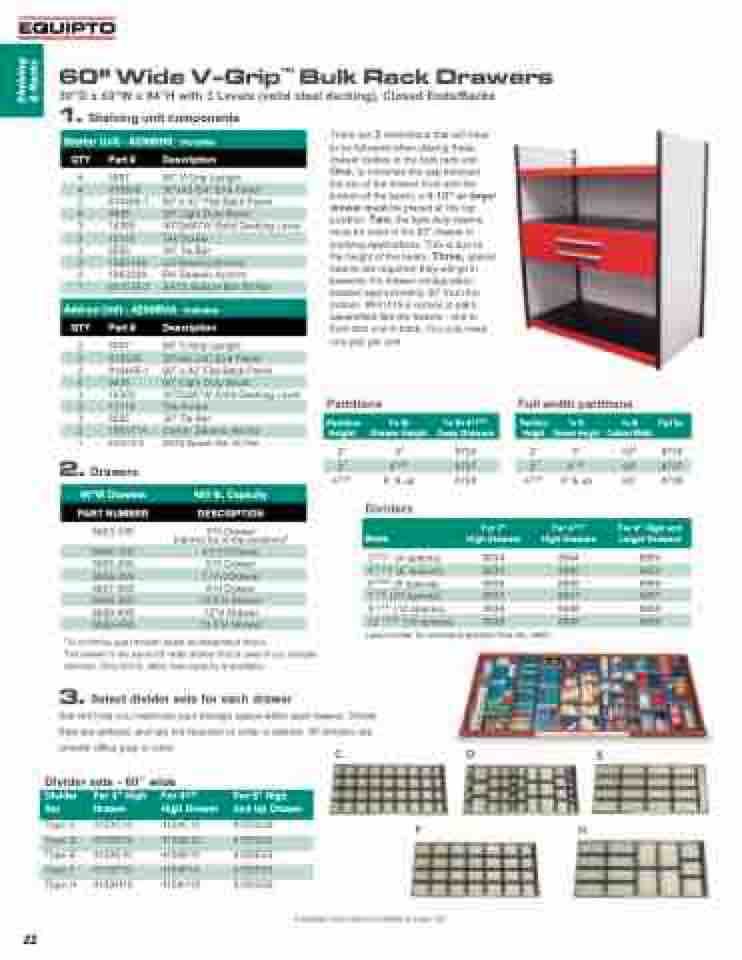 V-GripTM Tire Rack
V-Grip Tire Racks provide a flexible and economical tire storage system. Tire Racks are available in various heights in either a stationary or mobile configuration. Support beams provide a rigid 3-point connection to V-Grip upright post and are adjustable on 11/2" centers to accommodate a variety of tire sizes.
Tire racks
• Racks assemble quickly and adjust with a minimum number of tools
• Beams adjust up or down on 11/2'' centers • Brackets furnished for back-to-back
or against the wall use
Shelving & Racks
  Tire racks are adjustable for all passenger car sizes of tires and rims. If you require shelving to fit truck tires please contact Equipto Inside Sales.
Racks hold 7 to 10 tires
Each level 15''D x 60''W
All equipment assembles as shown, with cross beams locking into uprights. Beams are adjustable on 11/2" centers. All tire racks are furnished with brackets which may be used to anchor to wall or back-to-back. Floor anchors are provided for all starter and add-on units.
Beam-to-Post Connection
Strong, V-Grip uprights with tapered slots accept 3 lugs on each beam end to lock post to beam firmly, without fasteners.
4 Tier (120'' H)
  3 Tier (84" H)
  806-52S 806-52A 806-32S Starter Add-on Starter
Includes wall tie and floor anchor
Separator wall tie
This flange is to be used for bolting brackets back-to-back or for mounting to a wall (hardware for mounting to wall by others).
11561 - Single tie
11562 - Set of two (for back-to-back racks)
806-32A Add-on
Mobile Tire Rack
18''D x 60''W x 67''H
2 tier with casters / Part No. 806-52MOB
Floor anchor
 Upright
Floor anchor R.H & L.H. 7695L 7695R
     24
A standard color chart is available on page 146.